We are pleased to announce version 1.0.5 of our iOS and Android apps. A big thanks to all of our users for all the valuable feedback. You have helped us make some great improvements and fix a few unwanted bugs. Your input really helps make Chirp what it is today :)
Improvements in version 1.0.5:
1. Added support to edit sightings
2. Added 'Post Privacy' to new sighting posts
3. Enabled posting sighting from Groups and Pages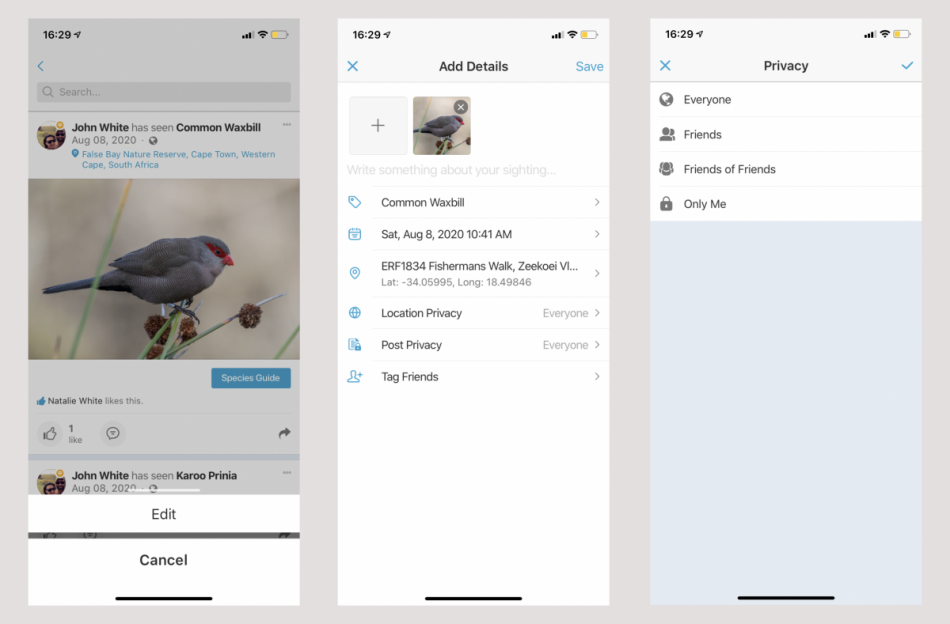 Editing Sightings
Editing sighting is probably the largest and most important improvement in version 1.0.5 of the Chirp app. It is functionality that we have been keen to release so that users can quickly edit sightings where necessary rather than having to delete and repost them. This edit sightings functionality also sets the groundwork for some exciting developments that will change the way our community log their bird sightings, especially those that keep checklists of their birding trips.
Post Privacy
Prior to version 1.0.5 of the Chirp app, it was possible to define the sighting location privacy but it was not possible to alter post privacy (i.e. which members of the community can view a user's sighting posts). In version 1.0.5 we decided to add this functionality so that users have better control over what categories (Everyone, Friends, Friend of Friends, Only Me) of the Chirp community can view their sighting posts.
Posting sighting from Groups and Pages
Up until now, it has only been possible to post sightings from the main feed or from a users profile. With groups and pages being integral to the Chirp platform, they were a important area where our community wanted to post sightings. This update forms part of a series of updates that we are going to be making to improve how users post sightings. This update is the first step in that direction.
Squashed bugs in version 1.0.5:
1. Fixed bug with new follower email notifications
2. Fixed Search, Sort and Filter bug in Followers and Following screens
3. Fixed bug in Life Lists
4. Fixed a bug with leaderboard refreshing
Don't have the Chirp Birding app yet? Download it for iOS and Android.
Happy birding!
Team Chirp
Featured Blog
Where to go birding?  The world's appetite for getting outdoors has become super evident since th...