We are pleased to announce version 1.0.8 of our iOS and Android apps. A big thanks to all of our users for all the valuable feedback. You have helped us make some great improvements and fix a few unwanted bugs.
Improvements in version 1.0.8:
1. Enable tagging of users in comments
2. Support for autosuggestion when typing
3. Translated app to Spanish
4. Hiding some profile updates from the main feed
5. Reduce load time for photos in iOS Photo Library
6. Support for JPEG 2000, JPEG XR and WebP image uploads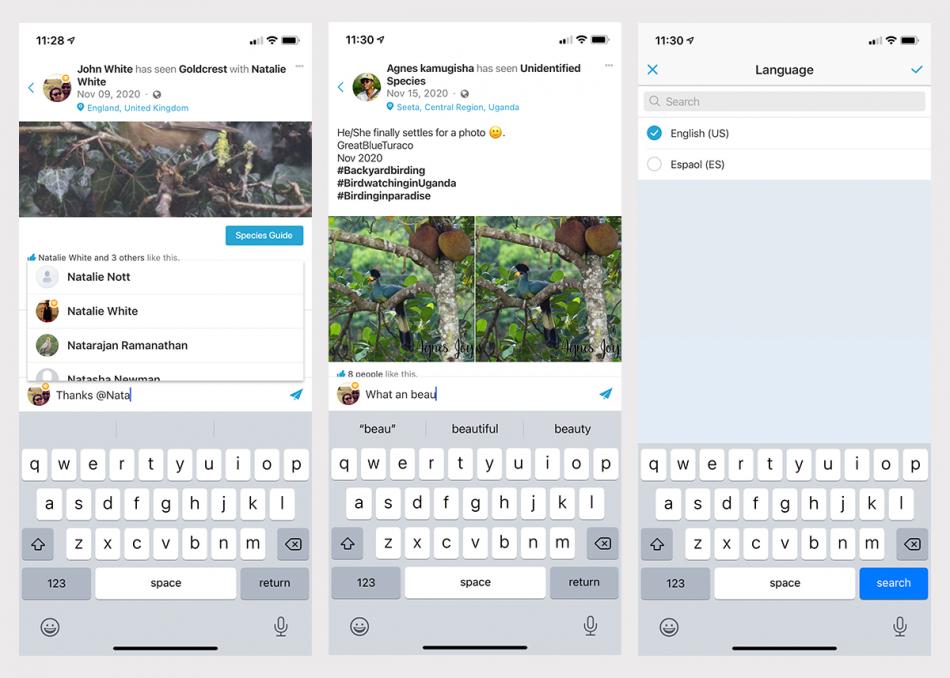 Tagging of users in comments
In this latest update we have enabled tagging of other users in comments. Tagging users in comments sends the tagged user a push notification to alert them of the tagging so it is a great way of bringing someone into a conversation.
Autosuggestion
Autosuggestions don't always get suggestions correct but they do get it right most of the time. We have become so used to typying with autosuggestions that when it is suddenly missing, you really notice it! So, to keep everyone in their comfort zones, autosuggestions is now live in v1.0.8.
Spanish Translation
With an estimated 437 million native speakers, Spanish is the fourth most widely spoken language in the world. Now that we have a workflow in place to translate the Chrip platform, we will make a start with the next language. If you have suggestions on what language should be next, send us a message on support@chirpbirding.com
To change language in the app, tap the menu icon in the bottom right > System Settings > Langauge and then select the language of your preference.
Hiding profile updates from feed
Prior to this update, the feed was occasionaly swamped with updates to a users profile as the user got their profile setup. To keep the main feed relevant and focused on birds and birdling, we decided to remove some user profile updates from the main feed.
Squashed bugs in version 1.0.8:
1. Fix bug that prevented user from editing the location of sightings
Get Involved in Beta Testing:
Fancy getting access to all of our updates before the masses? Join our iOS or Android Beta Testing Program and start testing all our latest features and fuctionality!
New to Chirp and don't have the app yet? Download it for iOS and Android.
Happy birding!
Team Chirp
Featured Blog
So, you've got major gaps in your life list and grown a little tired of your backyard American Robin...