We are pleased to announce version 1.0.10 of our iOS and Android apps. Once again, a big thank you to our users for all the valuable feedback. You have helped us fix some more bugs and hopefully, you will enjoy our improvements!
Improvements in version 1.0.10:
Onboarding screens for new users
Various menu updates to streamline the user journey
Added 'All, Region and Following' feed filters
Added warning that tagging a user in a sighting adds the species to the tagged user's life list
Added push notification for users tagged in sighting
Tapping on a life list location pin now opens in MapBox rather than Google Maps
Fixed bug where the coordinates were not captured when adding a sighting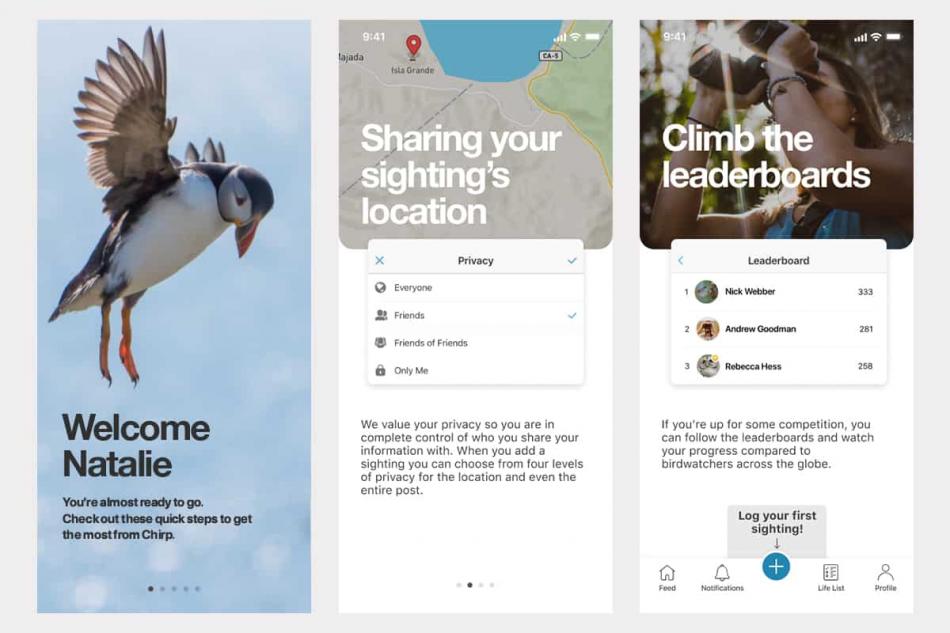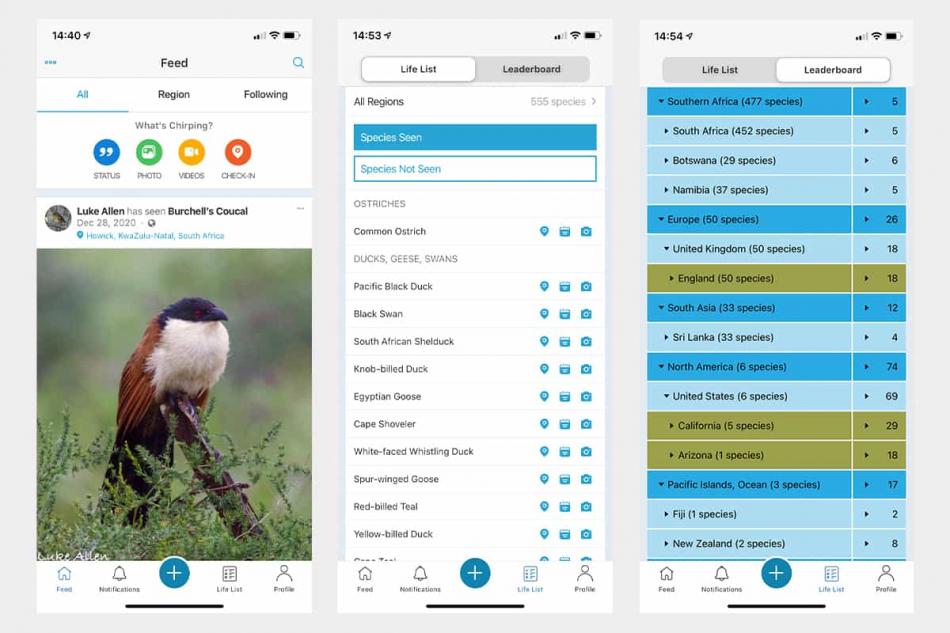 Onboarding screens for new users
Once you have registered, getting up to speed with some of the important features and functionality in an app can be a daunting experience. To streamline this for users, we have started adding a series of onboarding screens for new users.
Menu Updates
In version 1.0.10, we have provided access to all the main birding features directly from the menu and other intuitive locations in the app. This is our first step at reducing complexity and clutter in the app so that it is as easy as possible for users.
Filtering the main feed into All, Region and Following
As the Chirp community has grown, the main feed has become much busier and has started featuring sightings and content from all over the world. In order to keep content relevant for users, we decided to filter the feed into two additional streams. The first is a broad regional feed that limits content to the users default region e.g. Europe, North America, Southern Africa etc. The second is a user-tailored feed that only provides content from people that you specifically follow. The All feed will remain in place and features all content posted on Chirp as before.
Tagging users in Sightings
We have found that not all of our users were aware that tagging users in sightings is designed to be used only when the user you are tagging was present with you and also saw the bird species you are posting. As tagging other users in sightings also add the species to their life list, it is really important that tagging is only used as intended. To clarify this, we now provide users with a warning before they tag anyone and then also send tagged users a notification to let them know they have been tagged in a sighting.
Displaying the Location of Lifers in your Life List
In our previous releases, we started migrating all maps from Google Maps to MapBox maps in order to support some of our future features and functionality. Displaying the location of lifers on a map is one of the last few changes that we need to make a full transition to MapBox.
Squashed bugs in version 1.0.10:
Fixed bug where the coordinates were not captured when adding a sighting
Get Involved in Beta Testing:
Fancy getting access to all of our updates before the masses? Join our iOS or Android Beta Testing Program and start testing all our latest features and functionality! For more information, take a look at this blog: How to join Chirp Birding's Beta Testing program.
New to Chirp and don't have the app yet? Download it for iOS and Android.
Happy birding!
Team Chirp
Featured Blog
Someone with a casual interest in birds who likes to quietly observe their garden comings and goings...