Back in 1851, on his quest to find the source of the Zambezi River, Scottish explorer David Livingstone stumbled upon a piece of paradise in the southern most corner of the Caprivi Strip. Now renamed the Zambezi Region, this narrow strip of land boasts areas of extraordinary wilderness just waiting to be explored.
Five years ago, the idea of doing a back to basics overland trip through the wilds of Southern Africa was definitely not on my radar. Back then I was a pale-faced Brit who'd barely stepped foot in Africa. Now, married to a die-hard 'bush warrior' and running our own wildlife social platform, Tracking the Wild, a month of soaking up the wonders of the African bush has fast become my idea of heaven.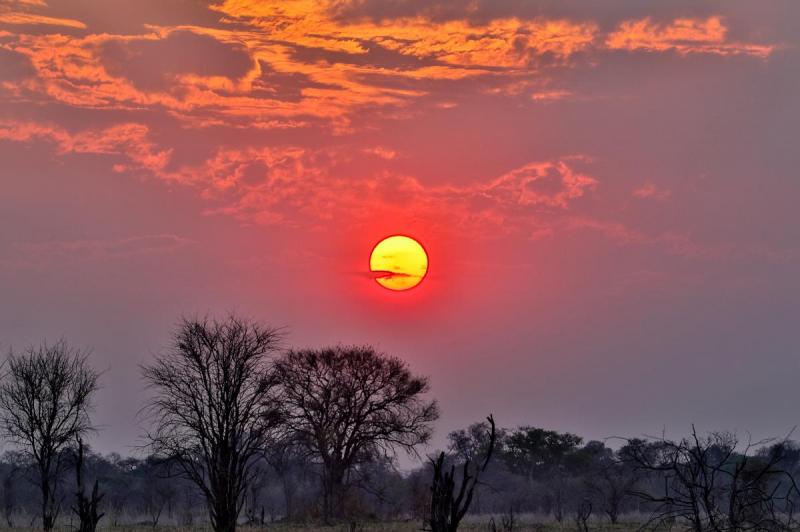 Our trip would take us 32 days and over 8,000km – the final odometer count was 8,610km – across three countries and to eleven different National Parks and game reserves. Starting from our home in Cape Town, we travelled straight up the N7 to Kgalagadi Transfrontier Park, which straddles the border between South Africa and Botswana. The park comprises an area of over 38,000km2 – one of the few conservation areas of this enormity left in the world, and has been on our bucket list for a while. Not a tar road in sight, and with an intriguing landscape of dry riverbeds, semi-desert red dunes and endless skies, it was our first inkling that we'd arrived in true wild Africa. Underutilized on the urban streets of the Mother City, this was perfect opportunity to take our beloved Toyota Fortuner for some proper off-roading.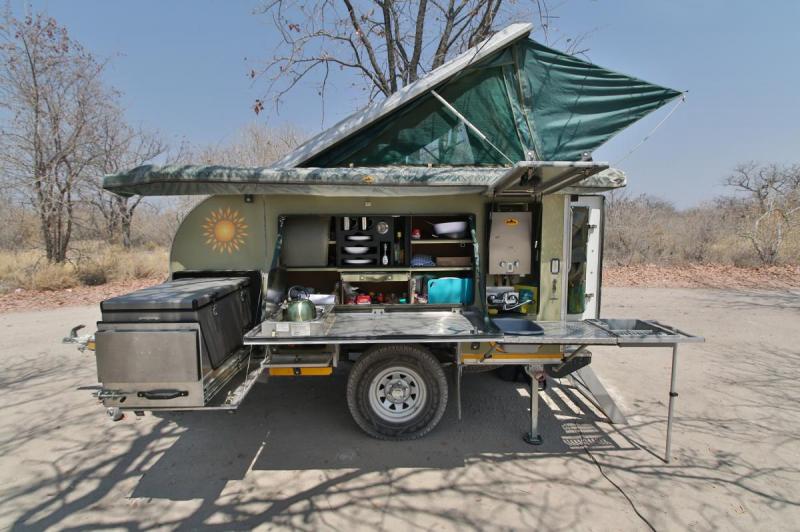 The trusty Bushwakka Sundowner off-road caravan
To add to the challenge, this trip was also our first time towing a trailer and we'd picked the new Bushwakka Sundowner off-road caravan as our home for the next month. Filling a gap in the current 4x4 trailer market, the compact Sundowner is perfectly designed for two people, quick and easy to set up and has a spacious caravan-type feel. It comes complete with a large double bed, plenty of storage space, hot water, a solar powered fridge and a fully equipped kitchen. This is a type of luxury camping that is hard to come back from. The trailer comes as standard with a CR12 stainless-steel chassis, heavy-duty leaf springs, safari gas shocks and a stainless steel and aluminium body. Exactly the kind of tough durability that Bushwakka are renowned for and just what we needed for our off-road adventure. We were excited to put the Sundowner through its paces.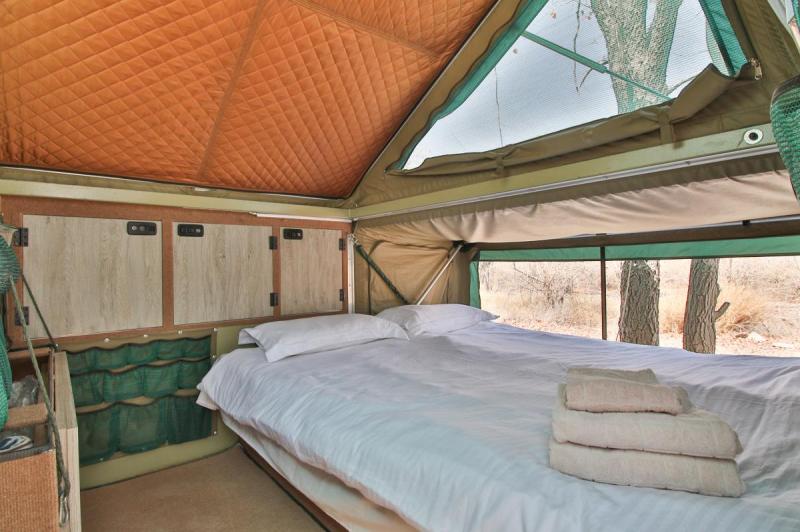 The Bushwakka Sundowner's Super comfortable double bed with a view
Our time in the Kgalagadi and our ensuing days exploring first the apricot dunes of the Namib Desert and then to Etosha, Namibia's greatest wildlife destination passed without a hitch. Endless, well-maintained dirt roads were proving no challenge for our Fortuner and Bushwakka. If only we had known what lay ahead.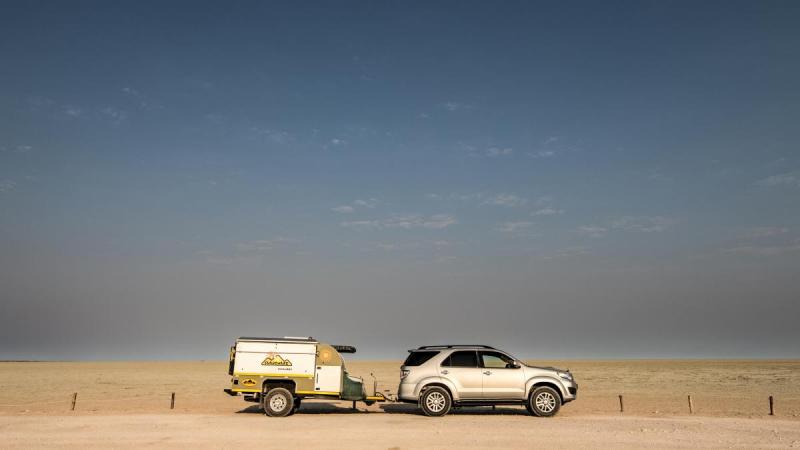 Fortuner and Bushwakka Sundowner - Etosha National Park, Namibia
By now we were over 3000km into our journey and our next stage took us through the Caprivi Strip or Zambezi Region, and it was here that our 4x4 skills definitely got put to the test. Over the next few days we cut our teeth battling through deep sand, thick bush and deceptively deep water crossings. It all started with an unplanned adventure into Bwabwata National Park and what should have been a straightforward 14km drive to Nambwa Campsite on the banks of the Kwando River.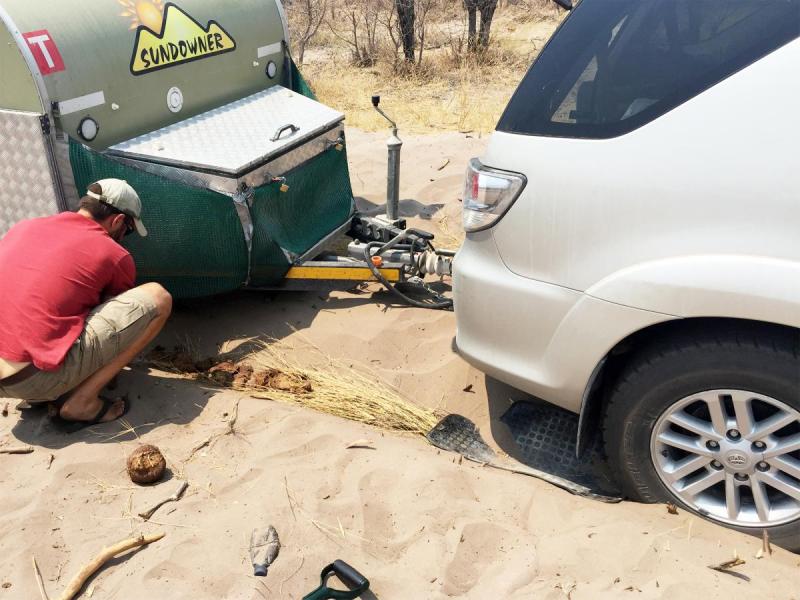 Stuck in deep sand in Bwabwata National Park! Letting the tyres all the way down to 1.2bar solved the problem.
Part of the Susuwe Triangle, the area is little known despite how rich in game it is. The first part of the drive weaves along some very narrow tracks through dense forest and the elephant destruction here is as brutal as the deep sandy roads. Sweating through the air conditioning, my heart spent most of my time in my mouth wondering just how we were going to make it to the campsite with the trailer still attached. Having successfully negotiated our way through the forest, we hit the flat flood plains and thought the worst was over. Then the trailer found a sandpit that was just too deep. John, my husband, immediately killed the engine and jumped out to examine how badly stuck we were, whilst I went to retrieve the spade out of the caravan with a warning to keep my eyes peeled for animals. Not exactly what you want to hear when you're stuck in the middle of a game reserve with no help for miles around! Gathering grasses and dried up elephant dung we created some grip for the tyres along the tracks and with the diff-lock engaged (and me running behind the caravan pushing it forward) we were free again.
However, the Gods were clearly having too much fun with us and ten minutes later we found ourselves stuck again. This time it was the Fortuner's tyres that had dug in. Inspecting the situation, we realised that we'd missed a track that had been carved around the deep sand we were now stuck in! Our only way out was to try and reverse to follow the track around which is less straightforward when you have a caravan behind you. Putting the 4x4 training into action, we dropped the tyre pressure even further to 1.4 bar – clearly something we should have done the first time – and began the grass and elephant dung collection again. The midday heat was punishing and I was desperately trying not to think about what animals may be watching from the bushes and ignoring the growing number of vultures circling overhead.

Riverfront campsite at Nambwa - Bwabwata National Park
After that it was smooth sailing and the picturesque riverside campsite was a welcome sight. There are just four pitches on the river, which need to be booked well in advance, and then a few more overflow spots with plenty of shade. Each pitch has a braai and water tap and the shared bathroom facilities are rustic but well-maintained. During the night you can hear the sounds of hippos with incredible clarity, often leaving the river and wandering through the camp to graze.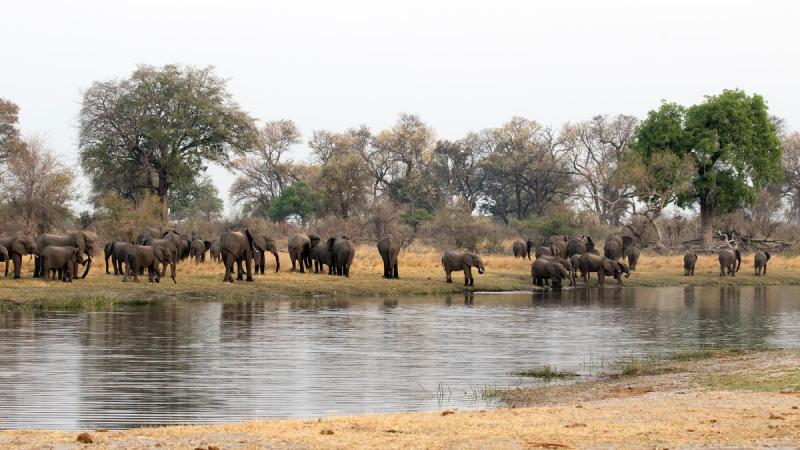 One of three massive herds of elephant that converged on the Kwando River at dusk
A particular highlight is Horseshoe Lagoon, about 5km south of the camp, it is the most stunning ox-bow lake set in riverine woodland. Elephants come in the hundreds to drink and bathe – we must have seen about 300 in one sitting. With huge herds of buffalo waiting in the wings and brightly coloured Carmine bee-eaters hovering overhead, the wildlife sights and sounds are a feast for the senses. This was definitely my new favourite place and I was devastated to only be staying one night.

Morning coffee at Horseshoe Lagoon - Bwabwata National Park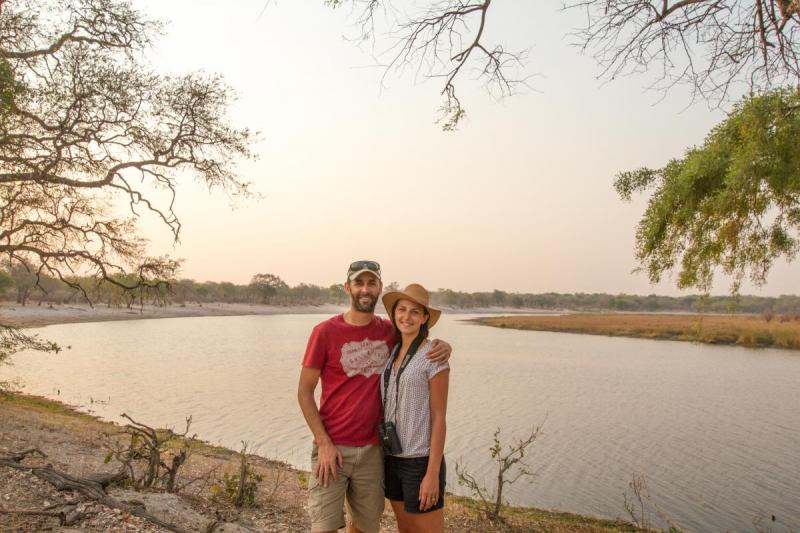 John and Natalie - Horseshoe Lagoon, Bwabwata National Park
The Caprivi is a river-rich Namibian oasis, the Zambezi, Kwando, Linyanti and Chobe rivers sustain countless mammals as well as over 500 species of birds. Upon reaching the Linyanti area, near present day Sangwali and bordering Nkasa Rupara National Park, Livingstone believed he'd found the 'garden of Eden' and it's easy to see why. Now with it's recently completed tar road (the C49), a diversion to Nkasa Rupara or its neighbour Mudumu National park is kinder on your tyres and full of rich rewards.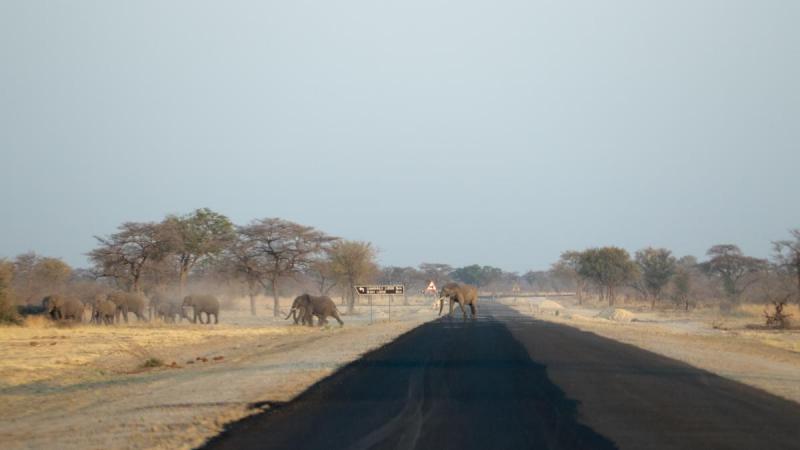 Elephants crossing the C49 - Mudumu National Park
Formally Mamili National Park, Nkasa Rupara is wild and seldom visited. The park is a watery nirvana of reed bed channels, lakes and islands that make up the Linyanti swamps. Spectacular herds of elephant, buffalo, red lechwe and reedbuck are among the highlights. Much of the park is inaccessible during the wet season and even when it's dry, water crossings can be tricky. You are unlikely to come across many tourists and with a series of unmarked 4x4 routes, you need a good GPS and to be completely self sufficient. If you get stuck a rescue team is far away! The park includes two islands: Nkasa and Rupara and although the water levels were very low during our September visit, we had been advised to stay on Rupara Island and therefore away from any bigger river crossings. But with such wilderness to explore it was far too tempting not to explore forbidden territory. Besides from what we could see on the map there looked to be only one river crossing and we vowed to turn back if it was too deep.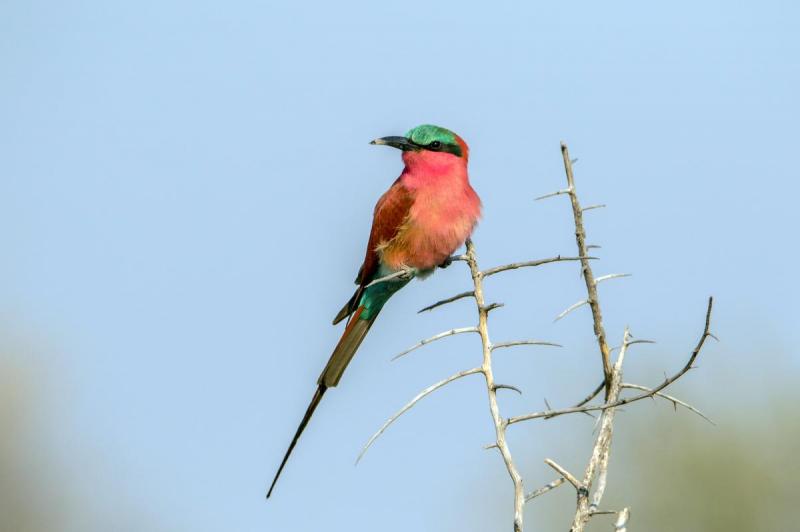 Carmine Bee-eater - Nkasa Rupara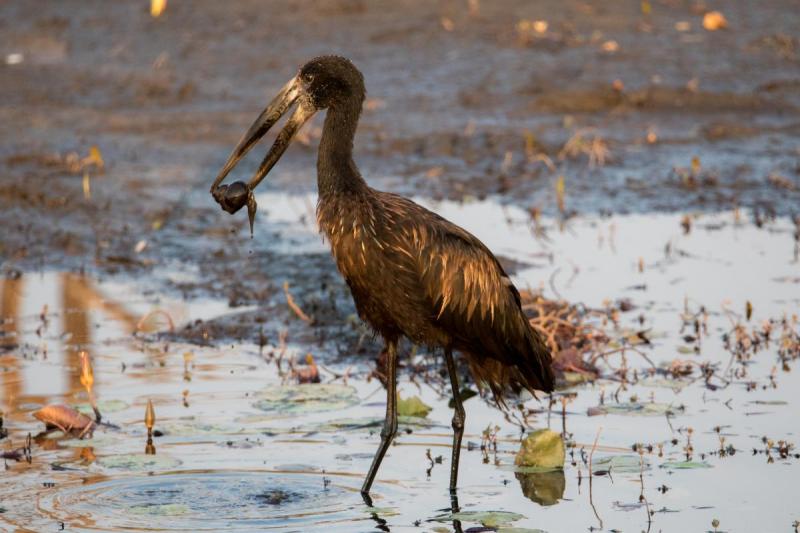 Openbill Stork with a snail, it's favourite meal - Nkasa Rupara
Crossing a few little trickles on route we were feeling pretty confident that all would be well, however, upon reaching the end of the track we noticed that the little trickles had now turned into a rather a fast-flowing stream! "Mm that looks deep" John said to me as he opened the door to get out for a closer inspection. As the water was a sort of muddy brown colour and we couldn't see the bottom, we decided to test just how deep it was. Retrieving the shovel out of the boot and kicking off his shoes, John tentatively waded in whilst I stood spotting for crocs on the safety of the bank. Satisfied that the water only came to the top of the shovel, we rigged up the GoPro and decided to risk it. "Are you ready?" John asked as my white knuckles were busy gripping the dashboard. It felt like we hit the water at quite some pace and before we knew it, the water had come right over the windscreen. My heart was seriously pounding and I was doubtful we were going to make it up the bank on the other side. Jumping out of the car to inspect for potential damage, John's face had instantly paled. "The river bed must have dropped in the middle" he cried, "I can't believe we didn't get stuck, this was pretty stupid of us considering we don't have a snorkel!" On that point I was in total agreement and sincerely hoping there was going to be a less perilous way back.

River crossing, Nkasa Rupara National Park
Driving across the vast grassy floodplains toward Shimuvu Pool, we were eager to happen upon one of the huge herds of buffalo that Nkasa Rupara is famous for. Instead all we got was a slow puncture from a thorn that was lodged in our tyre. It was also whilst I was inspecting the rest of the tyres for possible punctures that I noticed our front number plate was missing. Clearly a casualty of the earlier river crossing. The track we were following had now run out and with no sign of Shimuvu Pool or the buffalo we tried to work out another way back. Staring at the basic photocopied park map, I tried to ignore the sinking feeling in my stomach as it dawned on us that the only way off the island was back the way we'd come.
With the engine at risk of flooding if we got stuck in the water, and not having seen another vehicle since we left camp, I closed my eyes and prayed we'd make it up the steep bank the other side. It was a very quiet drive back to camp as we contemplated how close we came to being one of the many vehicles that get stuck in this park every year.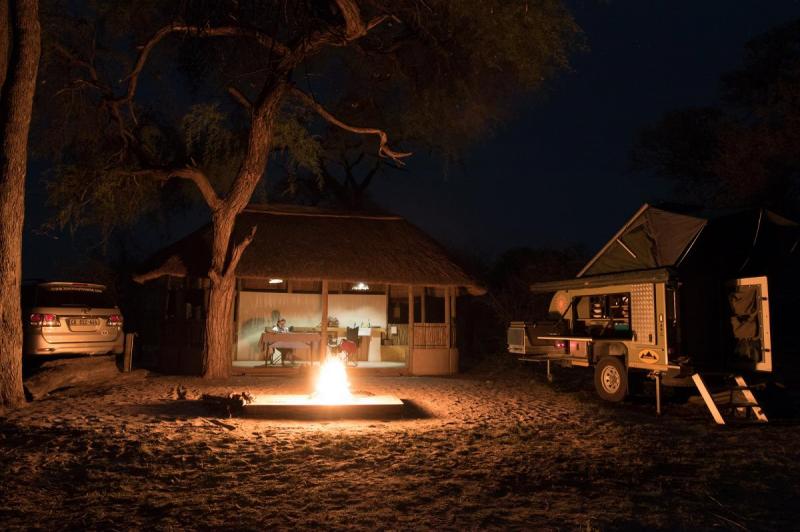 Livingstons Camp, just outside Nkasa Rupara National Park
Our base for three nights in Nkasa Rupara was the newly built Livingstone's Camp. The camp borders the national park and features five exclusive campsites which each have their own private bathroom, hot showers, a thatched lapa and incredible views of the Linyanti wetland – these were truly unrivalled camping facilities. Although the camp is not strictly speaking inside the park, there are no fences and the animals wander freely. In fact, our first night was spent in the company of a hungry herd of elephant munching their way through the bushes surrounding our camp! It is just a short 4km drive (15 minute) to the park office where you can buy your permit and then you are free to explore as you please.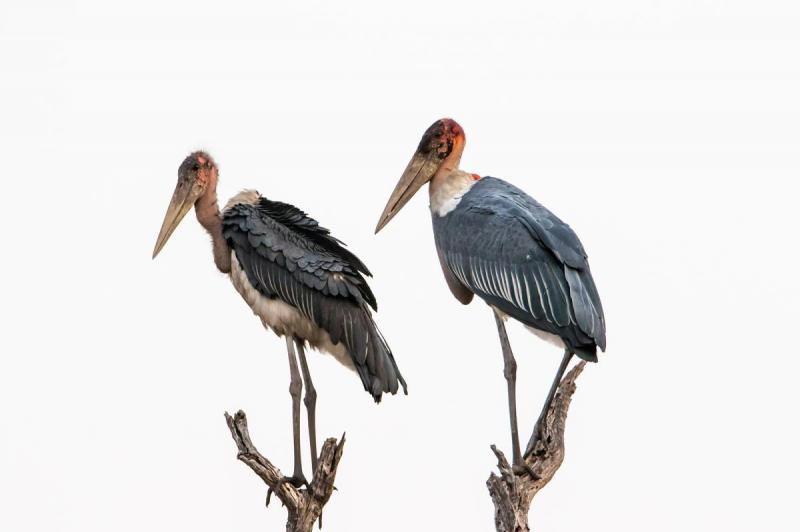 Marabou Stork, the 'Adams Family' of the bird world, Nkasa Rupara National Park
Unbeknown to most, the Linyanti area is steeped in history. Our host at Livingstone's Camp, Adolf Waidelich, considers himself a hobby historian and number one fan of David Livingstone. On his search for the Zambezi River, Livingstone spent several months in the Nkasa Rupara area and during which time he befriended the local Makololo Chief Sebituane.
A trip to this area is not complete without a visit to the nearby Livingstone museum, which has been built as a tribute to Livingstone, the Makololo tribe and an ill-fated missionary party of two families, Holloway Helmore and Roger Price. In 1859 they were sent from the UK to establish a mission station in Linyanti after receiving instruction from the London Missionary Society on advice from Livingstone. Today the museum is run by Adolf and his business partner, local farmer Linus Limbo Mukwata, whose interest in Livingstone had been brought to life by his father's stories about the Scottish missionary's links with the Makololo tribe.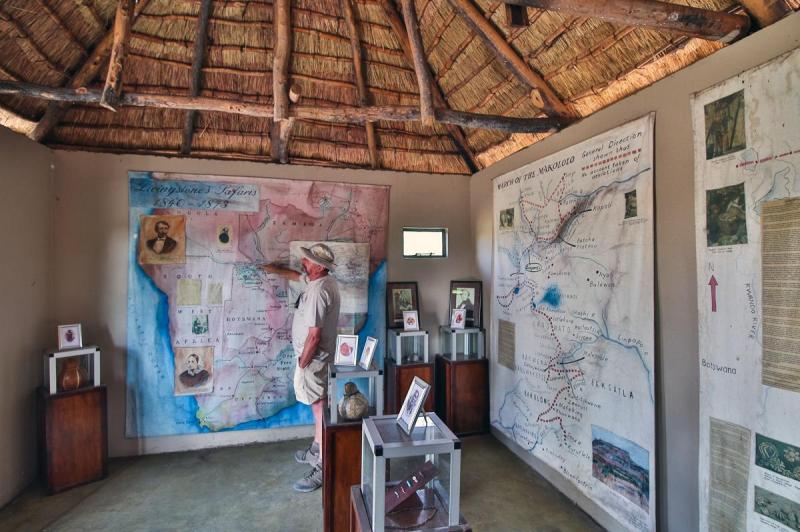 Livingstones Museum - Caprivi, Namibia
This overlooked missionary tale is a tragic one, fraught with danger and disease, and one that Adolf is passionate about sharing. We were astounded to learn of the extreme travels endured by these missionaries and Livingstone himself, walking virtually unaided across the Kalahari and through the Makgadikgadi Pans in the dry season! Realizing that Livingstone committed himself to a lifetime of walking over 46,000km and sleeping under the stars, made our 8000km in a Fortuner pulling our luxury house behind us seem like child's play.
Boasting amazing scenery and spectacular wildlife, the Zambezi Region is one of Africa's greatest wilderness areas, but its troubled political past has meant that for many it has been virtually forgotten. Our journey onward took us into Kasane and then to Savuti in Chobe National Park before winding our way to Moremi National Park, the final stop on our travels. For the majority of visitors, the Golden Highway is the transit route across the strip to reach the more popular parks such as Etosha or Chobe, however looking back over our entire trip, our journey into this distant corner of Namibia was definitely our most memorable. I suggest if you find yourself crossing the Caprivi Strip you stop and stay awhile, for you will soon find yourself counting the days until you can return.
Travel Planner
Best time to visit the Zambezi Region:
The wet season starts in late October and continues through to early May. Driving alone at this time is ill advised as it is easy to get stuck and there are few people around to assist. Wildlife usually disperses at this time and big game can be disappointing, however birding is at its best with many summer migrants in the area. Game viewing is at its best during the dry season from July to October with animals congregating at the riverfronts to drink.
Accommodation:
We stayed at two campsites in the Zambezi Region.

Nambwa Camp (Bwabwata National Park, Namibia):
The campsite is 14km south of the Park entrance gate and the entry point is well signposted from the main road. Purchase your park entry permit here as you will need to show this to us on arrival at Nambwa Campsite.
Prices from NS$175 per person per night.
Book via www.nambwalodge.com
Livingstone's Camp (Nkasa Rupara National Park, Namibia):
The campsite is located in the Wuparo Conservancy off the C49/M125 tar road. Travel a further 4.6km along the dirt road from Sangwali Village. It is about 4km north of the entrance to Nkasa Rupara National Park where you can purchase an entry permit.
Prices from NS$200 per person per night.
Book via www.livingstonescamp.com

Good to Know:
Do not underestimate the distances along the Strip, they are deceptively long.
Fuel and supplies are available at Katima Mulilo, the nerve centre of the Zambezi Region. We also refueled in Kongola and Divundu, however fuel may not always be available. Other than that you need to be completely self sufficient.
Malaria is prevalent throughout the Strip and precautions should be taken. Campsites are not fenced and animals wander freely so extra care should be taken when moving around at night.
Consult Chris McIntyre's excellent Bradt guide to Namibia for more advice – it was a fantastic source of information for us.

Featured Blog
Where to go birding?  The world's appetite for getting outdoors has become super evident since th...