Five years ago, the idea of doing a back to basics overland trip through the wilds of Southern Africa was definitely not on my radar. Back then I was a pale-faced Brit who'd barely stepped foot in Africa. Now, married to a die-hard 'bush warrior' and running our own wildlife social platform, Tracking the Wild, a month of soaking up the wonders of the African bush has fast become my idea of heaven.
Our trip would take us 32 days and over 8,000km – the final odometer count was 8,610km – across three countries and to eleven different National Parks and game reserves. Starting from our home in Cape Town, we travelled straight up the N7 to our first destination, Kgalagadi Transfrontier Park, which straddles the border between South Africa and Botswana.
To add to the challenge, this trip was also our first time towing a trailer and we'd picked the new Bushwakka Sundowner off-road caravan as our home for the next month. Filling a gap in the current 4x4 trailer market, the compact Sundowner is perfectly designed for two people, quick and easy to set up and has a spacious caravan-type feel. It comes complete with a large double bed, plenty of storage space, hot water, a solar powered fridge and a fully equipped kitchen. This is a type of luxury camping that is hard to come back from. The trailer comes as standard with a CR12 stainless-steel chassis, heavy-duty leaf springs, safari gas shocks and a stainless steel and aluminium body. Exactly the kind of tough durability that Bushwakka are renowned for and just what we needed for our off-road adventure. We were excited to put the Sundowner through its paces.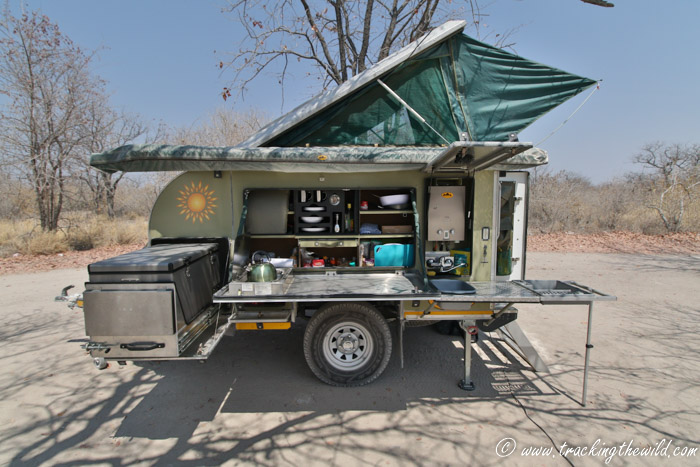 The rugged and trustworthy Bushwakka Sundowner
Kgalagadi Transfronteir Park
Learning to love the Kgalagadi
The official information guide to the Kgalagadi states that "the Kalahari will reveal itself to only those who seek with a true heart…" and I have to admit that in the beginning my heart was not convinced.
The park comprises an area of over 38,000km2 – one of the few conservation areas of this enormity left in the world and has been on our bucket list for a while. Not a tar road in sight, and with an intriguing landscape of dry riverbeds, semi-desert red dunes and endless skies, it was our first inkling that we'd arrived in true wild Africa. Underutilized on the urban streets of the Mother City, this was perfect opportunity to take our beloved Toyota Fortuner for some proper off-roading.
The Kgalagadi Transfrontier Park has been on our bucket list for a while so we were looking forward to this first part of our road trip a great deal. I think that is what made the disappointment of Twee Rivieren rest camp all the greater. Located at the main South African entrance to the park, the campsite is unfortunately situated overlooking the reception building and the road. My idea of Kalahari wilderness it was not.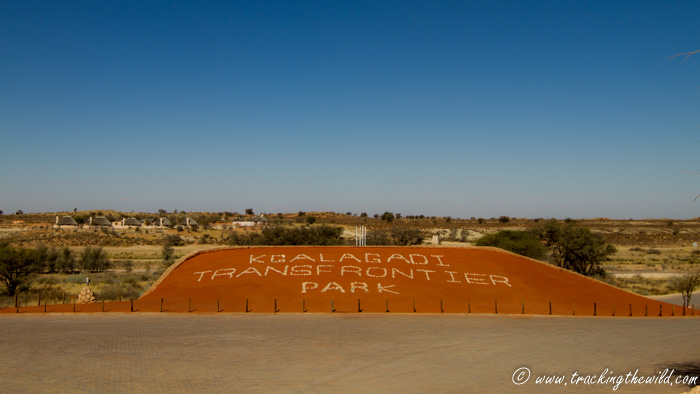 Twee Rivieren Rest Camp at the Southern entrance to Kgalagadi Transfronteir Park
It quickly became obvious that with the long driving distances in the park between camps, often 80kms or more, the majority of visitors use Twee Rivieren as a gateway to the rest of the park, staying just one brief night before moving on. Whilst I may have been initially disappointed by the position of the camp, the facilities are first class – a theme that followed through all of the camps we stayed at.
Our next two nights were spent at Kieliekrankie Wilderness Camp, and here the true meaning of 'wilderness' really came into its own. Four two-bed cabins (a fifth is coming soon) are situated on one of the highest dunes in the park, with endless views and a waterhole to observe from your private deck. Here the silence of the Kalahari is deafening in a way that truly soothes the soul.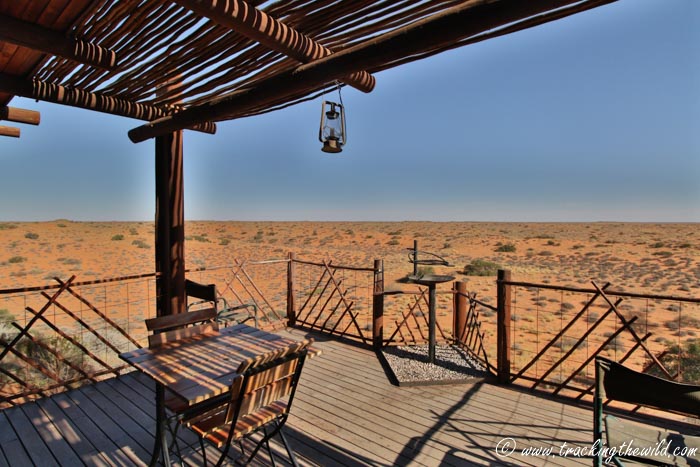 Kieliekrankie Wilderness Camp
Our final destination was Mata-Mata rest camp on the Namibian border. Another of the main rest camps (the other being Nossob which is hugely popular and already full when we booked more than 10 months in advance) although this time the location felt much more remote.
Our sightings over five days in the park were nothing short of spectacular. Too many to possible cover here without boring you too much, however, for us they are memories we will cherish for a lifetime.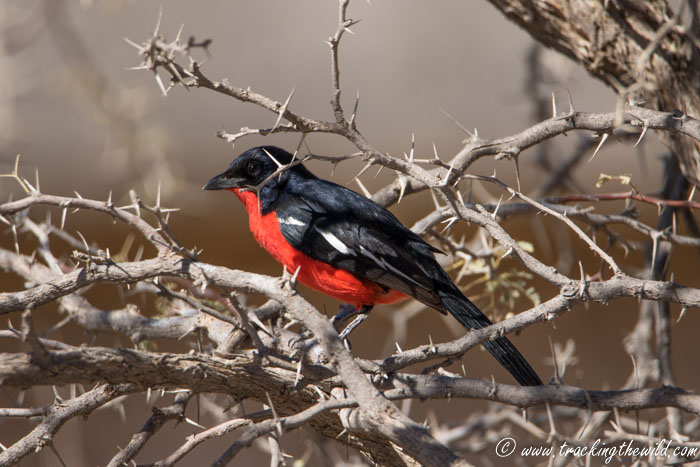 Crimson-breasted Shrike
The amazing thing about the Kgalagadi is that whilst it may not boast the Big 5, it really doesn't need it. Regular sightings of black-back jackal, tawny eagles, lanner falcon and secretarybirds and are enough to get the camera clicking. And to top that, we were fortunate enough to see cheetah, lion, brown and spotted hyaena and two honey badgers on the hunt! Once in a lifetime sightings that left us feeling extremely lucky indeed. The only one that got away was the elusive leopard, something for next time!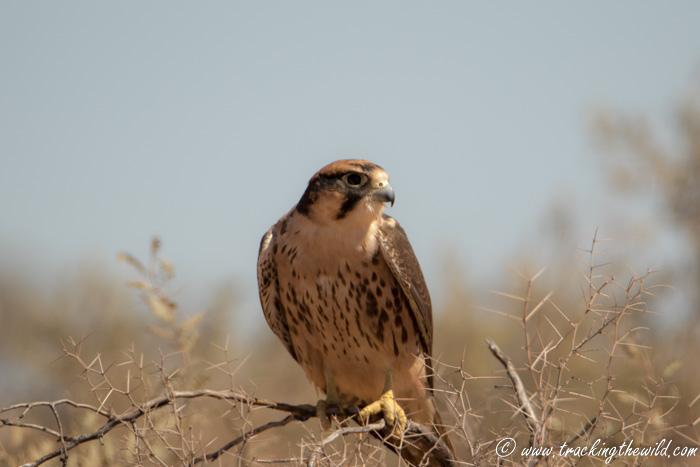 One of the many Lanner Falcon we saw
And it is true what they say about the Kgalagadi getting under your skin. Whatever my first impressions may have been, five days later a piece of my heart definitely belonged to the Kalahari. We were hooked and already planning our return.

Cats in the Kgalagadi!
The Kgalagadi has a reputation for great cat sightings, not just for the big stuff like leopard, lion and cheetah, but also the smaller species such as African wildcat and caracal which are seldom seen in other parks. After a pretty uneventful first evening's drive, we heard back at camp that cheetah had been seen by the Melkvlei picnic site for two days in a row so we immediately made a plan to head straight there early the next morning.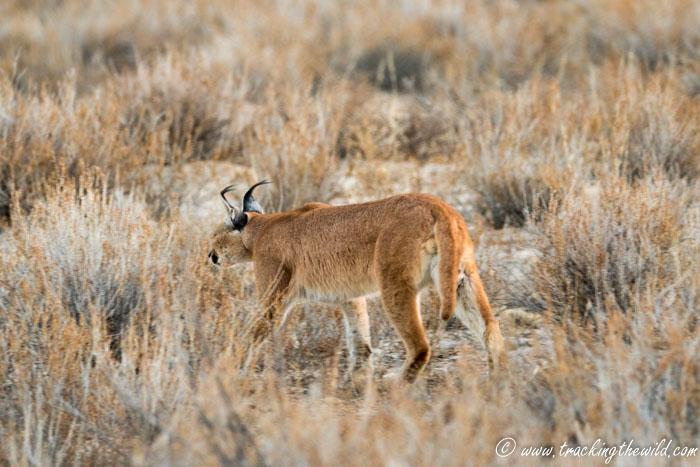 Our first Caracal
We didn't have to wait long for our first cat sighting as a few kilometers out of camp; a caracal darted across the road in front of us. This was a first for us! The closest we'd come to seeing a caracal before was on our camera trap in Kirstenbosch Botanical Gardens.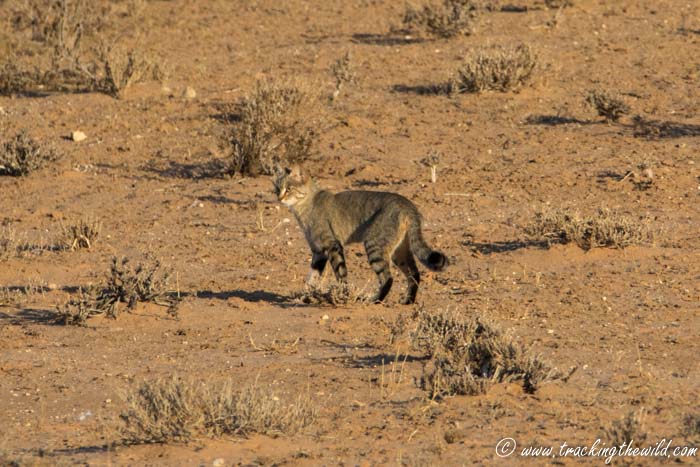 African Wildcat
Elated, we carried on and soon met with a Kgalagadi favourite – the African wildcat. We had briefly seen one the night before having an altercation with a black-backed jackal, however, we caught the tail end of their squabble and the wild cat had already ducked behind a bush.
With two great cat sightings already under our belt, we dared not hope that we would see more. Nearing the picnic site, we were on high alert when we noticed four springbok all staring in the same direction – at a jackal which was heading straight for them! Surprised by their reaction to a lonely jackal, I checked through the binos and spotted a silhouette on the ridge of the sand dune – a cheetah! And it was looking straight at the springbok. Feeling sure it was going to try its luck, we watched with baited breath as it stalked down the dune. Within seconds the springbok bolted and the potential breakfast for the cheetah was over.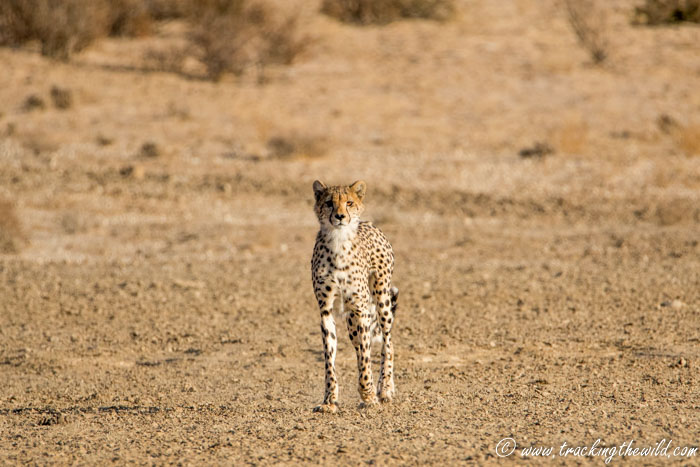 Cheetah hunting springbok
Hearing the cheetah call, which sounds much like a bird chirping, we realized there must be others in the area. And sure enough, further along the dune sat four others! A mother and her adolescent cubs, all looking very hungry. And one of them had just botched getting them breakfast! We stayed with them for over an hour as they made their way along the riverbed. Living up to its reputation for special cat sightings, we were riding high all the way back to camp.

A lion wake-up call at Kieliekrankie
A 6am alarm call on a Monday morning is usually met with a groan of dislike knowing it's the start of another working week. However, it's an entirely different matter when the alarm is ringing for an early morning game drive. Then I just feel excited at the thought of what we might see, oh and maybe a little smug knowing everyone else is going to work!
Perched on top of one of the highest sand dunes in the park, lies Kieliekrankie Wilderness Camp, completely unfenced and our destination for the next two nights, and the first nights that we won't be camping in our Bushwakka Sundowner off-road caravan.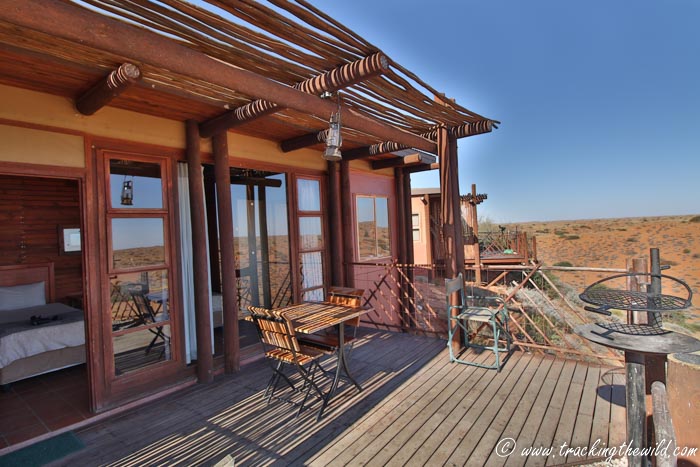 Kieliekrankie Wilderness Camp
Kieliekrankie's position is nothing short of remote, not a tar road in sight, with dry riverbeds and semi-desert vegetation, the park feels like true wild South Africa. The camp has four two-bed chalets (a fifth is being completed), each with its own private deck overlooking a waterhole. The uninterrupted views over the red sand dunes are spectacular, sipping on an ice-cold Savanna and enjoying the peace of the Kalahari, there was no place I'd rather be.
One of the things that I've noticed about the Kgalagadi, is how friendly the people are. Keen to give a friendly wave or stop for a chat and pass on information about what they've seen and where. With a limited number of roads and long distances between camps or waterholes, you often see the same faces driving around the park or back at camp. There is a definite sense of community with many loyal fans on repeat visits, and as first-time visitors we felt privileged to be part of it. We found the park staff welcoming too. Willem, our warden at Kieliekrankie, was more than happy to take John down to the waterhole to put out his trailcam so we could see what visitors might come for a drink in the night.
And nighttime visitors we had. At 3am we were woken by the unmistakable sound of lions roaring, but not far away in the distance, close, like right outside the front door! We tried shining our torch down towards the waterhole but unfortunately could not see anything and as the roaring died down, we promptly went back to sleep. The next morning, sure enough, there were lion tracks all around our chalet, including straight past the front door!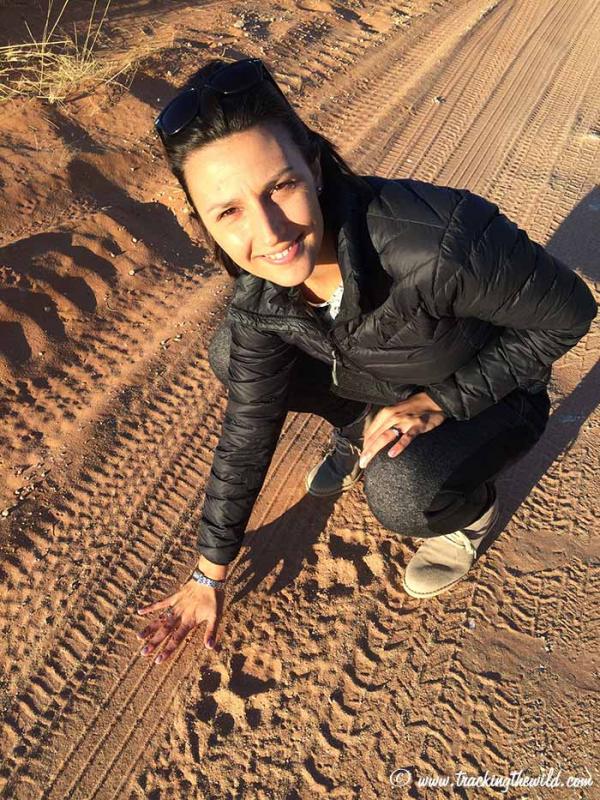 Lion spoor at Kieliekrankie Wilderness Camp
Whilst we were out on our morning drive, we noticed three big male lions making their way along the riverbed, heading towards Mata-Mata. Feeling sure that these were the same guys that woke us, we were pleased to set eyes on them. And speaking of eyes, one of them was sadly blind in his left eye and whatever had caused it looked pretty sore.
Later, when going through the photos on the trailcam, imagine our delight when our waterhole nighttime callers turned out to be none other than the three males we'd seen that morning, easily identifiable by the blind eye. We also were lucky enough to have an unexpected sighting of the elusive brown hyaena on the way back to camp. The magic of the Kgalagadi is making its mark and we can't wait for our next visit!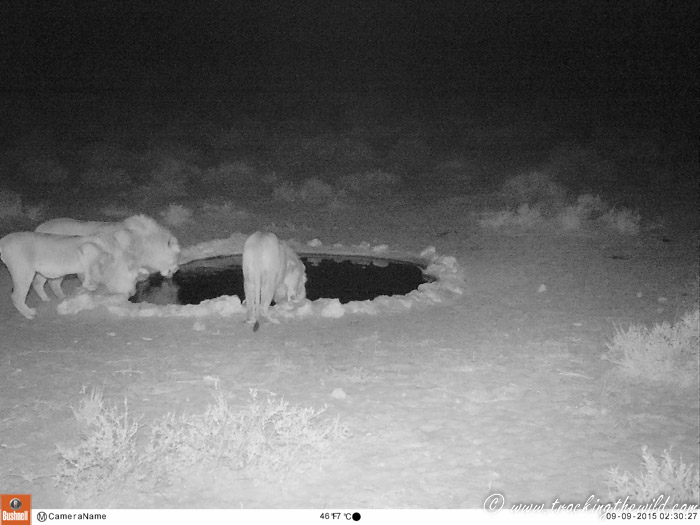 Lions at the Kieliekrankie Wilderness Camp waterhole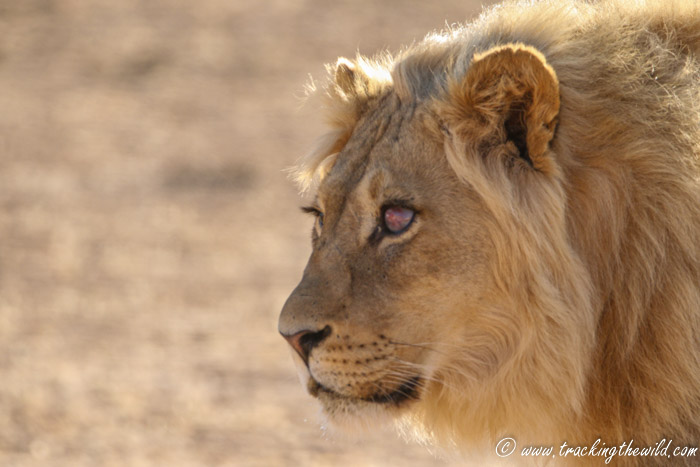 One of the lion that we at the Kieliekrankie Wilderness Camp waterhole

Kgalagadi Birding Highlights
We saw a total of 32 bird species in Kalagadi and these were some of the highlights:
Fawn-coloured Lark
Lanner Falcon
Ludwig's Bustard
Burchell's Sandgrouse
Spotted Flycatcher
Pririt Batis
Crimson-breasted Shrike
Swallow-tailed Bee-eater
Red-necked Falcon
Martial Eagle
Viilet-eared Waxbill
Travel Planner: Kgalagadi Transfronteir Park
Best time to visit the Kglalagadi:
Kgalagadi gets really warm in summer so the best time to visit the park between March and October. Having said that, we have visited it in December and although it is pretty warm even at midnight, you may get the chance to see the reserve after it has rained which is really spectacular.
Accommodation:
We stayed at three camps on the South African side of the park, Twee Rivieren Rest Camp, Kieliekrankie Wilderness Camp and Mata Mata Rest Camp. You can book accommodation for any of the camps on the South African side of the park via the South African National Parks (SANPARKS) website. The booking process is really smooth compared to any of the other reserves we have visited in Southern Africa. Kgalagadi is an extremely popular destination so you need to look at booking at least 6 to 12 months in advance of a trip to guarantee dates, especially over the South African school holidays.
Good to Know:
Do not underestimate the distances within the park, it is almost 270km from North to South. For example, driving the 160km between Twee Rivieren and Nossob will take you about 4 to 5 hours.
Fuel and limited supplies are available at Twee Rivieren, Nossob and Mata Mata on the South African side of the reserve. From what we understand there are no rest camps with fuel or supplies on the Botswanan side of the park.
I don't believe there is Malaria in the reserve due to its arid climate but check with official sources to make 100% sure.
Not all Campsites are fenced, and animals wander freely so extra care should be taken when moving around at night.
Extreme camping in the Namibian Desert
Before we began this road trip, I knew three things about Namibia's roads. Number one, they are generally dirt roads, though most are in reasonably good condition. Two, they are pretty much void of cars except for the odd passing bakkie (pickup truck), and three, they go on for miles and usually in a straight line. Whilst driving from Mata-Mata border post to Sesriem in the Namib Desert, I can vouch that this is true. In our 8-hour journey we maybe passed twenty cars, imagine how much easier your commute would be in the mornings if that was the case?!

Sesriem campsite
Sesriem is the gateway to the apricot dunes of the Namib Desert, Sossusvlei and, despite the name, perhaps the more enchanting Deadvlei. Sesriem Camp, which is run by Namibia Wildlife Resorts (NWR), is the only campsite at the park gates. Staying here gives you the advantage of being allowed into the park an hour before sunrise and sunset, a privilege not enjoyed by other visitors. The only other accommodation with this benefit is Sossus Dune Lodge, also run by NWR.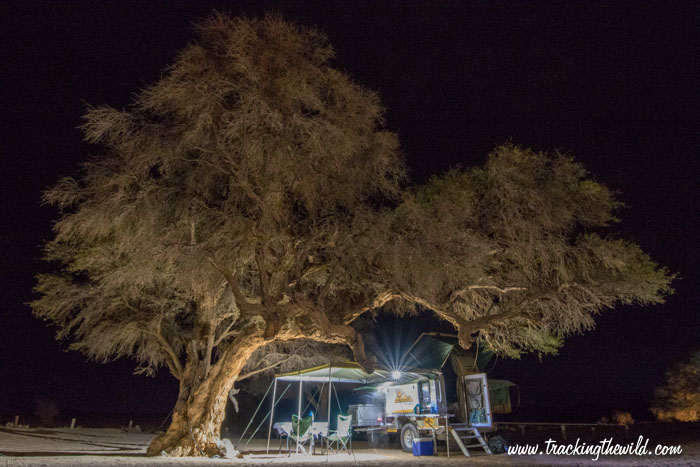 Our Bushwakka Sundowner at the Sesriem campsite
The position of the campsite is stunning. Red sandy pitches under the shade of their own camelthorn tree and each with water and electricity. We had a site on the outskirts which are definitely preferable – we were number 13 and in this case was not unlucky for us!
With our Bushwakka Sundowner caravan swiftly unpacked, the hammock strung up and a fresh cup of tea just brewed, we sat under the shade of our canopy watching the gemsbok and springbok wandering the grassy dunes in front of us. Knowing we had three nights here, we relaxed back into our camp chairs and soaked up the view.
Early the next morning, we set off for the 60km drive along the tar road to Sossusvlei, Well actually, we were heading for Sesriem Canyon but we couldn't find the turn, which turned out to be a stroke of luck – I'll explain why later. About 45km along the road you reach the aptly name Dune 45, a mountain of apricot sand and a perfect place to watch the sunrise. Sadly for us, the weather was somewhat overcast and with a string of people already snaking their way up to the top, we decided to carry on to Deadvlei. There is a carpark where the tar ends and the sand track begins, you can either catch a shuttle to Deadvlei/Sossusvlei or opt to drive yourself if you have a 4x4. Make sure you let your tyres right down though, the sand is super deep in parts and John had to go to the rescue of some people who had got themselves nicely stuck.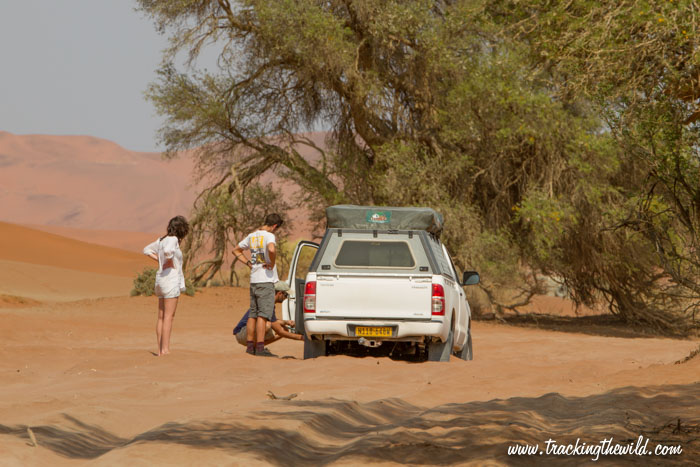 The sandy road to Deadvlei
Out of our whole road trip, Deadvlei and the dunes were something that I was especially excited to see. From the opportunity for many a spectacular photograph, to witnessing an alien landscape that seems like it should be starved of life and somehow isn't. I wasn't disappointed. Even though the weather wasn't quite playing ball, the sun did poke its head out between the stormy skies every now and then to illuminate the dunes. We even had a few spots of rain – not what I was expecting in the desert!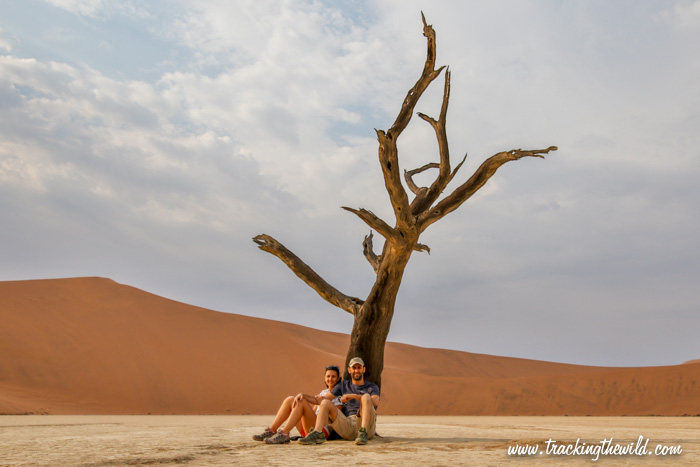 Natalie and John at Deadvlei
After Deadvlei we drove further along to Sossusvlei, however with another dune to climb before you reach Sossusvlei itself, the heat of the day was starting to take hold and our rumbling stomachs were telling us that breakfast was long overdue. We decided to come back later or the next day and headed back to camp. By now, the wind had picked up and all we could see ahead of us was a wall of dust, right about where our campsite was. That was also when John decided to mention that he'd left the top windows open in our caravan to let the breeze in while we were out. Translation – the caravan will be full of sand. And sure enough, our white duvet was kind of an orange colour too. With the sand battering our faces, we did what we could to take down the canopy and close up the caravan. Taking shelter in the restaurant, we contemplated our next move over a plate of burger and chips.
We thought that it was going to be much like the movies where the sandstorm rolls through and then is over in a matter of minutes, however, we were very much mistaken. The weather report said the strong winds were due to last for the next few days and so with heavy hearts we decided that we should cut our stay short and leave the following day for our next destination, Okonjima Nature Reserve.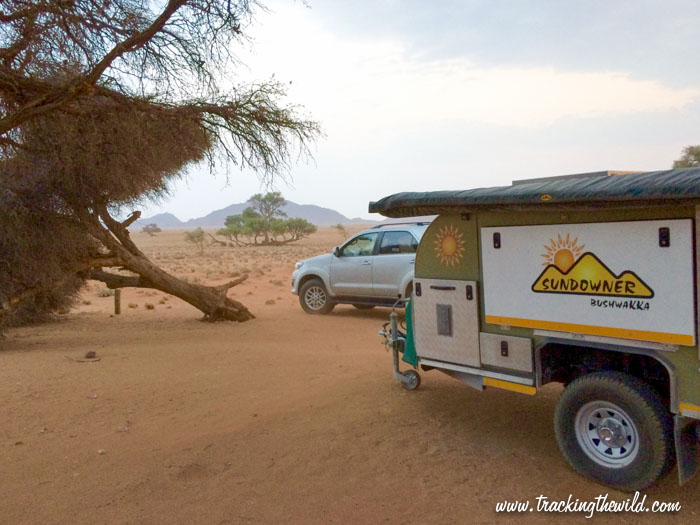 Glad we parked upwind of the tree!
By early evening, the wind had calmed down enough for us to shake out some more of the sand, make some dinner and get an early night. Fearing that the calm atmosphere would not last, we had to sleep with the caravan completely closed up which was bad luck considering this was the warmest night we'd had by far. Struggling to sleep, the wind had picked up again by midnight and we were both desperately trying to keep our eyes closed and hope that sleep would overtake us. Let me tell you, gale force winds, sand and a tent do not a happy camper make! By 3am the wind was pumping and we could hear squeals from outside as people anxiously tried to hang on to their tents. Boy was I glad of our stable Bushwakka caravan! The noise levels were impossible to sleep through and every time we started to drift off, a huge gust would jolt us awake as if from the middle of a nightmare.
By 6am it had started to get light and we'd had enough. Braving a sand whipping, John went out to do an inspection of our 'home' and spotted a tree had fallen just by our car, luckily the other way! Packing up as quickly as we could, we left the desert behind without so much as a backward glance.
Sesriem Birding Highlights
We unfortunately didn't see many birds in Sesriem. The only really notable species and a lifer for use was a Rüppell's Korhaan we saw on the C19 after leaving Sesriem.
Travel Planner: Sesriem, Sossusvlei
Best time to visit the Sesriem, Sossusvlei:
Just like Kgalagadi, Sesriem gets really warm in summer so the best time to visit the park between May and September. July to November is High season so the area gets busy and high season rates will apply.
Accommodation:
Sesriem Camp, is run by Namibia Wildlife Resorts (NWR), so booking are best done via their website.
Good to Know:
Do not underestimate the distances within the park, it will take you about an hour to do the 60km drive from Sesriem campsite to Soussusvlei. If you are a keen photographer or just want to avoid the daytime heat then it is best to get on the road as soon as the gate opens. In summer (Sept to Mar), the main gates open at 6.00a.m. In winter (April to August), the main gates open at 6.45a.m.
The first 60km to the main parking area is on a good tar road. If you want to drive the last 4km stretch to the Deadvlei parking are, then you will need a 4x4 and preferably experience driving in very deep sand. A LOT of people get stuck on this short section of road. If you do drive the last 4km stretch let your tires down to at least 1.4bar
There is a restaurant at the Sesriem campsite as well as fuel and limited supplies.
Leopard tracking in Okonjima Nature Reserve
After fleeing the desert sandstorm we'd encountered in Sesriem, we headed 525 kilometers north to Okonjima Lodge. Without a sand dune in sight, a two-day break from camping and a chance to "de-sand" was a welcome prospect.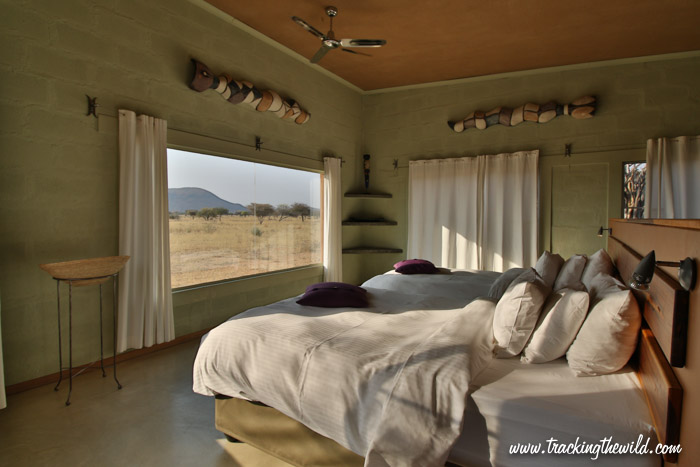 Our Chalet at Okonjima Plains Camp
Halfway between Windhoek and Etosha, Okonjima is a 20,000 hectare reserve situated on the well-known Waterberg Plateau. Not just a luxury lodge, Okonjima is also home to the famous AfriCat Foundation, a non-profit organization dedicated to the long-term conservation of Namibia's large carnivores, particularly cheetah, lion, leopard and wild dog.
There is a good range of accommodation options at Okonjima, from all inclusive luxury bush villas to the more affordable half-board rooms at Plains Camp. There are also 4 exclusive campsites nestled amongst the Omboroko Mountains. After an afternoon of recharging our batteries by the pool and a delicious 3-course dinner, we were all set for our early morning game drive the next day. Okonjima offers a number of activities for guests from game drives to track carnivores, walking trails and guided tours of the AfriCat Carnivore Centre. Having already experienced an amazing cheetah sighting in the Kgalagadi, we couldn't resist the opportunity to try our luck at tracking leopard. With over 30 leopard thought to live in the reserve, though not all are collared, our guide Previous seemed pretty confident he would find us one!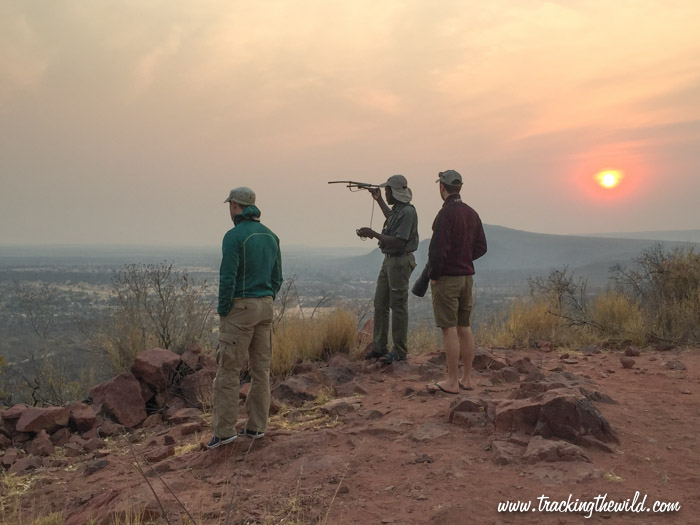 Scanning for leopard
We set off straight to the top of the nearest hill to try and get a signal from one of the leopard's radio collars so that we knew which direction to head in. Whilst stopping to admire the sunrise on route, we unexpectedly caught the partial solar eclipse, only visible from Southern Africa and Antarctica! Previous managed to pick up a couple of signals from the collars, one of which was for a relaxed female leopard named Electra.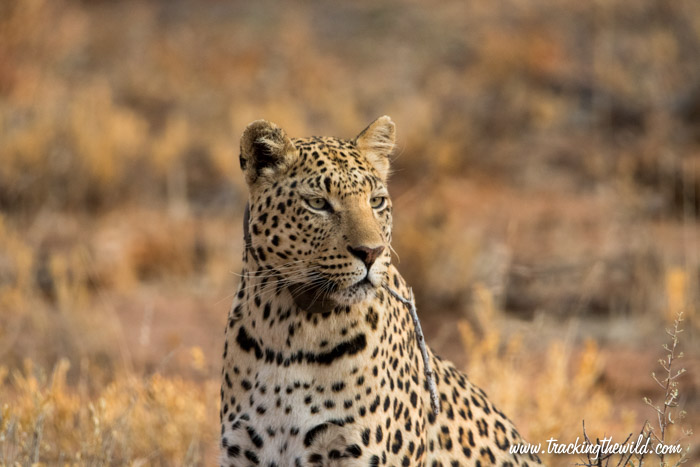 Female leopard named Electra
Okonjima has a predator-free safe area of 2,000 hectares around the camp so that guests can enjoy the walking trails and move freely around the camp without worrying. It was just after we'd passed through the gate that the signal got stronger. Listening to the alarm calls from the red-billed spurfowl, we knew that we must be in the right place. And sure enough, there she was. Sitting beneath the shade of a tree, looking at us intently, it was a magical sight. Everyone's cameras were frantically clicking knowing that at any minute she could run off. My heart fell a few moments later when she got up and starting walking away further into the bush, disappointed that our time with her had been so short. Already parked off the main track and with quite thick bush ahead, we quickly lost sight of her. And then Previous announced that she was probably going back to her cub. "A cub! You didn't tell us that she had a cub!" I thought.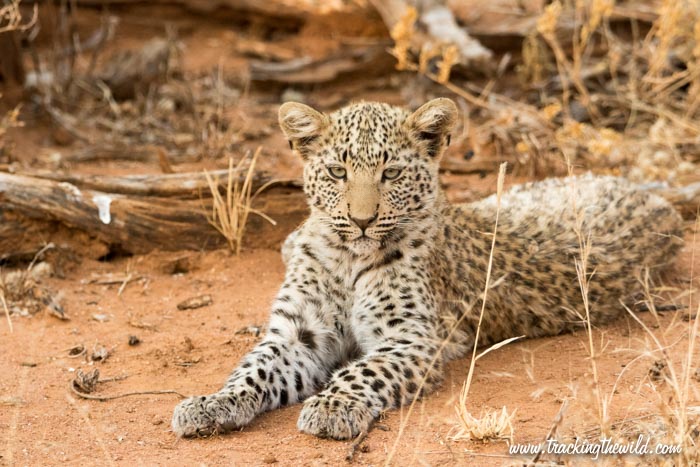 Electra's cub
After some serious bush bashing in pursuit of Electra, Previous managed to lead us right to the spot where she had left her 4-month old cub happily sleeping. Having never seen a leopard cub in the wild before, and especially so close, I was amazed to watch in wonder as the cub playfully chased pigeons and wandered right past the vehicle curiously looking at us. Sadly Electra had already lost one cub from this litter and so she was keeping a close eye to make sure the cub didn't stray too far. Especially when a slightly hairy moment occurred as a brown hyaena appeared out of the bushes! It quickly bolted after a warning scowl from Electra not to get too close.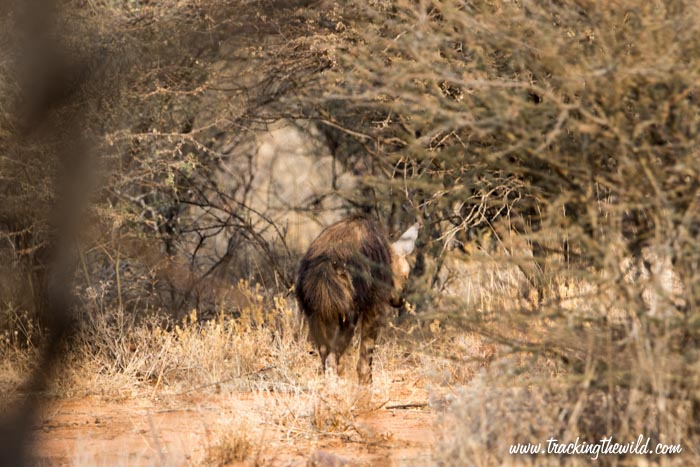 Brown Hyaena
On the way back to camp, excitement hit a new high when we came across the reserve's four wild dog walking through the dry riverbed. Previous told us that they are affectionately known as "The Terrorists" after being found jumping around at the bottom of a tree having chased a leopard far up into the branches! After three hours of thrilling wildlife sightings, I was sorry that our trip to Okonjima was not longer.
Okonjima Birding Highlights
Okonjima is in an area of Namibia where a few unique species occur for the Southern African region. One of these species is the Rockrunner (Achaetops pycnopygius) which we heard but unfortunately didn't get to see. We did however see there new lifers, the White-tailed Shrike, Rüppell's Parrot and the Southern Pied Babbler.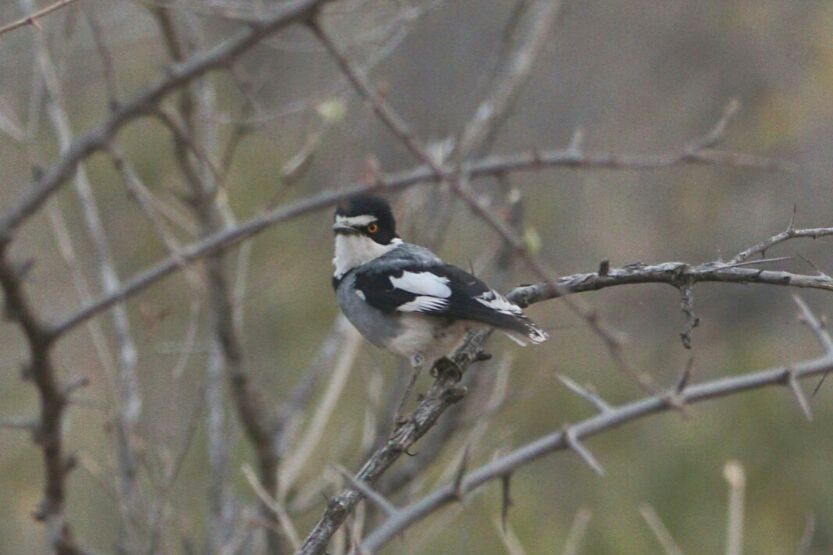 White-tailed Shrike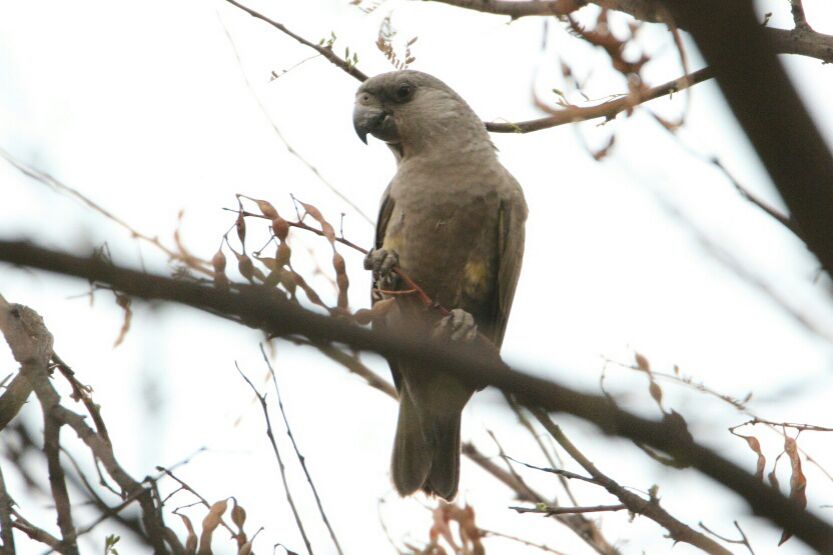 Rüppell's Parrot
Travel Planner: Okonjima Nature Reserve
Best time to visit the Okonjima Nature Reserve:
As with Sesriem, it gets really warm in summer so the best time to visit the reserve between May and September. Having said that, there is air-conditioning in the rooms so you should be able to escape the heat in the summer months.
Accommodation:
Visit the Okonjima website for all booking options and enquiries.
Good to Know:
Okonjima is about 220km from Windhoek and the drive will take approximately two and a half hours.
The roads within the reserve and dirt so enquire with the reserve management about the condition of the road if you are not traveling in a 4x4 vehicle.
The accommodation at Okonjima Plains Camp is fully catered.
Trip Sponsors
Thank you to our trip sponsors. Bushwakka for lending us the Sundowner off-road caravan and Tamron SA for lending the following four lenses: SP150-600mm f5/6.3 Di VC USD, SP15-30mm f2.8 Di VC USD, SP70-200mm f2.8 Di VC USD and SP90mm f2.8 Macro Di VC USD.
Featured Blog
Where to go birding?  The world's appetite for getting outdoors has become super evident since th...