Calle Guzmán el Bueno, 1, Facinas, Spain
Founder
Simon Tonkin & Niki Williamson
Description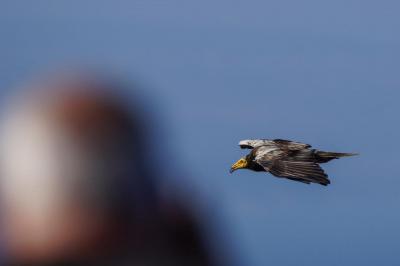 Here at the Inglorious Bustards, experiencing the powerful event of bird migration has led to a life-long fascination with avian migration and #FlywayBirding. It's no accident that we have chosen our base to be here in the Straits of Gibraltar. Our location between Gibraltar and Tarifa puts us right at the epicentre of birding in the Straits and, from a migrating raptor's point of view, we must surely also be at the centre of the world!
We love not only to marvel at the birds passing but also to follow them on their migratory journey, and explore the whole range of fascinating and varied terrains they traverse each year.
More than that though, we love to share our adventures with you! As well as our home-from-home in southern Spain, we take pride in bringing you the best of birding and migration spectacles along the whole East Atlantic flyway journey, through Europe, and North Africa, right down to the steamy wintering grounds of many of our nomads, south of the Sahara. Our #FlywayBirding tours have nothing to do with racing around ticking birds and everything to do with enjoying landscapes, habitats and cultures and having a good laugh – at a relaxed pace.
If like us you enjoy amazing wildlife spectacles where adventure meets relaxation and fun, then you have found the right place!